8 Essential Steps to a Successful Rebrand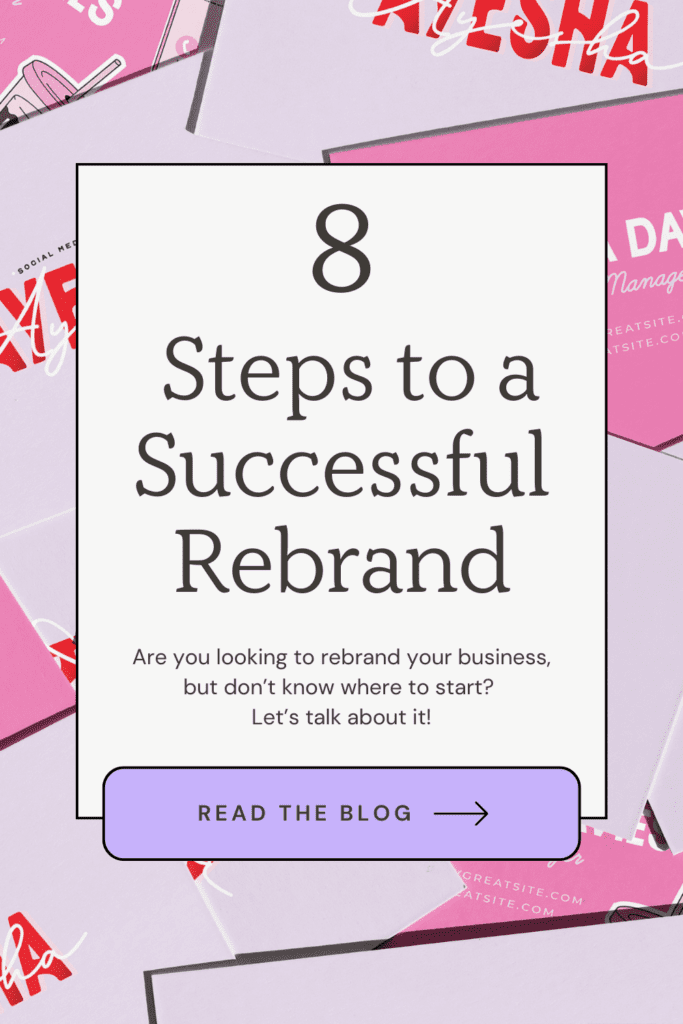 Are you looking to rebrand your business, but don't know where to start?
If so, you're not alone. Rebranding can be a daunting task, especially if you're not sure what all it entails. That's where I come in.
As a branding designer, and I've helped dozens of businesses rebrand successfully and in this blog post, I'll walk you through the 8 essential steps to a successful rebrand.
By the end of this post, you'll have a good understanding of what's involved in rebranding, and you'll be able to decide whether it's the right choice for your business. And if you decide that it is, you'll know exactly where to start.

Let's get into it!
---
Step 1: Define your rebranding goals
What do you hope to achieve with your rebrand? Are you looking to attract a new audience, expand into new markets, or simply update your look and feel? Once you know your goals, you can start to develop a plan to achieve them.
Step 2: Audit your current brand
Take a close look at your current brand identity, including your logo, website, marketing materials, and social media presence. What's working well? What could be improved? This analysis will help you identify the key elements of your brand that you want to keep, and the areas that need to be updated.
Step 3: Research your target audience
Who are you trying to reach with your rebrand? What are their needs and wants? What are their pain points? The more you know about your target audience, the better equipped you'll be to create a brand that resonates with them.
Step 4: Analyze your competitors branding
What are your competitors doing well? What could they be doing better? Understanding your competition will help you position your brand in a way that stands out from the crowd.
Step 5: Create a brand strategy
Your brand strategy should be a roadmap that outlines your goals, target audience, competitive analysis, and desired positioning. This document will be your guide as you move through the rebranding process.
Step 6: Design a new visual identity
Your visual identity is one of the most important elements of your brand. It should be visually appealing, memorable, and consistent with your brand values.
Step 7: Update your marketing materials
Once you have a new visual identity, it's important to update all of your marketing materials to reflect the changes. This includes your website, social media profiles, brochures, business cards, and any other collateral.
Step 8: Communicate your rebrand to your audience
Be transparent with your customers about your rebrand. Explain the changes, the reasons behind them, and what they can expect from you going forwards. Use multiple channels to communicate your rebrand, such as email, social media, and of course your website.
---
Rebranding is a big undertaking, but it really doesn't need to be overwhelming. By taking the time to plan and execute your rebrand carefully, you can create a new brand that resonates with your target audience and helps you achieve your business goals.
And as always don't forget:
Be patient. Rebranding takes time. Don't expect to see results overnight.
Be consistent. Once you've launched your new brand, be consistent in how you use it across all of your marketing materials and channels.
Be flexible. Be prepared to make adjustments to your rebrand as needed. Things don't always go according to plan, so it's important to be willing to adapt.
I hope you've found this post useful, I've helped dozens of businesses rebrand successfully, and I'm confident that I can help you too. If you're ready to rebrand, and would like some help with the heavy lifting, I'd love to chat with you about your rebranding project.